Big vision changes in governments and bureaucracies move at a snail pace. This is even more so in our neck of the woods where everything is contested and challenged. But recent planning proposals emanating from Macquarie Street may be catching up. New planning innovations discussed here may finally be waking up to how younger generations want to be housed.
Hipster Housing
These recent changes to state planning policy to make housing more affordable have the added advantage of being what people want. Younger generations want to live, work and play in a different way. This article in the SMH outlines the state government's plan to tackle the housing unaffordability issue.
Co-living spaces typically feature private rooms and large common areas and have been described as the residential equivalent to co-working spaces. "Part of the change is cultural. I think co-living in the past was seen as housing for hippies. Now it's seen as housing for hipsters. Rather than having their own workspace, for example, or dining space, for example, or kitchen space or storage space, these things can be shared," Mr Stokes said.
These new housing options are designed for young professionals, single people who want to live in a closer community and have no interest in a brick and tile block in suburbia. This rental accommodation has been dubbed "next-generation boarding houses". This topic has been written about by BPS before and called houses for "Digital Nomads".  State and federal governments need to change outmoded policies that make alternative housing models difficult to realise. Build to Rent, Co-housing, Land Lease Communities and Community Land Trusts are hindered because of redundant planning, tax and investment policies.
Rail Trail Villages
This innovation is going to have a lot of influence on the futuristic proposal to put more little villages along the much-discussed rail trail. The idea of putting medium density villages that could include co-housing communities along the rail trail is gaining
momentum. Ideas like this needed to be initiated ten or fifteen years ago, but it's never too late to start. This has been discussed in this newsletter before.
The old rail trail between Byron and Mullumbimby is being "ground-truthed" by interested community members. This term is when you actually physically go and investigate to see if an idea is actually going to work "on the ground". A group of us, including current councillors and candidates, have been walking some of the passable sections and looking at how the old rail would best be reborn. We also discuss where mixed-use villages could occur.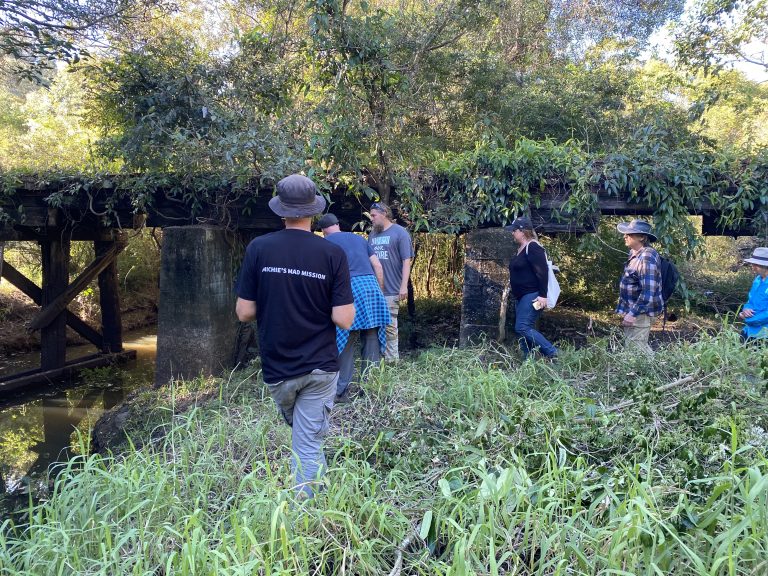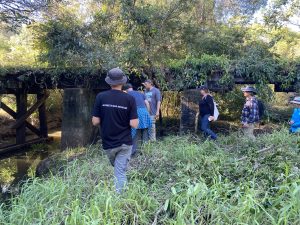 David Mitchie, an engaged, knowledgeable local, has been organising and leading these expeditions. Advocates of the old trains coming back should do this for themselves. It soon becomes obvious the condition of the rail bridges are way beyond repair for rail – still big bucks for walking and bikes even. The idea for the Rail Trail Villages fits in nicely with the above state planning amendments. More flexibility in diverse housing options is sorely needed in this shire.
Industrial Land and Business Parks
The other proposal getting more community acceptance is the BILS – Business and Industrial Land Strategy. I have written about this strategy before and more residents need to be aware of it. Council has proposed finding new sites for industrial land as well as expanding existing industrial parks at Billinudgel, Mullumbimby and Bangalow. Anyone can see our existing ones are full to overflowing.
A recent sale in the Byron Arts and Industry Estate made people aware of the value of these properties. The 4000 M2 site in Grivellea Street that houses the Leasuresapes landscaping business sold for $11,500,000 earlier this year. This is over 1000% mark up from the million dollars it sold for in 2011. The demand for business sites for SMEs is intense and will only get worse.
Included in the BILS as a business park is a large parcel at 66 Saddle Road, Brunswick Heads. The vendor of this 52 Ha was Kelvin Davis who was the proponent of the Bruns Eco Village concept. Unfortunately, this innovative and admirable scheme to house people in an affordable and sustainable way faced too much opposition and Mr Davis threw in the towel. This left many individuals who were already committed to making their homes there very distressed.
The $10 mil buyer of the ecovillage site was a syndicate led by Brandon Saul, the developer of the very successful Habitat in Bayshore Drive and the North Byron Parklands/Splendour in the Grass. He is being backed by a social venture capital firm owned by Scott and Phillipa Goninan. They are from one of Queensland's richest families. There are no firm plans as yet for the site but most likely a business park for the rural/agribusiness/food sector. The Gonanins and Mr Saul are also doing a social venture in Fletcher Street, Byron Bay, to house homeless people in partnership with the Byron Community Centre.
The eco-village proposed by Kelvin Davis was scuttled by the considerable efforts of another Saddle Road resident, Mathew O'Reilly (aka Cleva). Mr O'Reilly is #3 on the Greens ticket, which is putting itself under untold stress as acrimonious internal divisions keep bursting out into public view. He has also had ongoing tussles with the council's planning department over his own considerable "mega-development" on his land at Saddle Road.
The moral to this story is that it can be very confusing trying to figure out who are the goodies and who are the baddies in this shire.
You can read the NSW Planning draft here; Housing SEPP Plain English document