The lockdowns in large parts of NSW and Victoria have instilled uncertainty into the market. But underneath this, the demand and competition for good listings have not abated in the least.
SPRING SURGE
Agents and anxious buyers are waiting to see if there will be a surge of new listings for spring. There has been very little product and many potential sellers have been holding off waiting for the lockdowns and other unknowns to settle. New stock will ease demand a bit but there is no sign the market will be cooling in the near future.
As you can see from the attached graph, Byron Bay has topped the state and national charts for the 12 months to May.  According to Core Logic, the median Byron Bay home sold for an extra $1,286,000 in the space of a year. The normal house price basically doubled, going from $1.3 million in 2020 to $2.7 million a year later.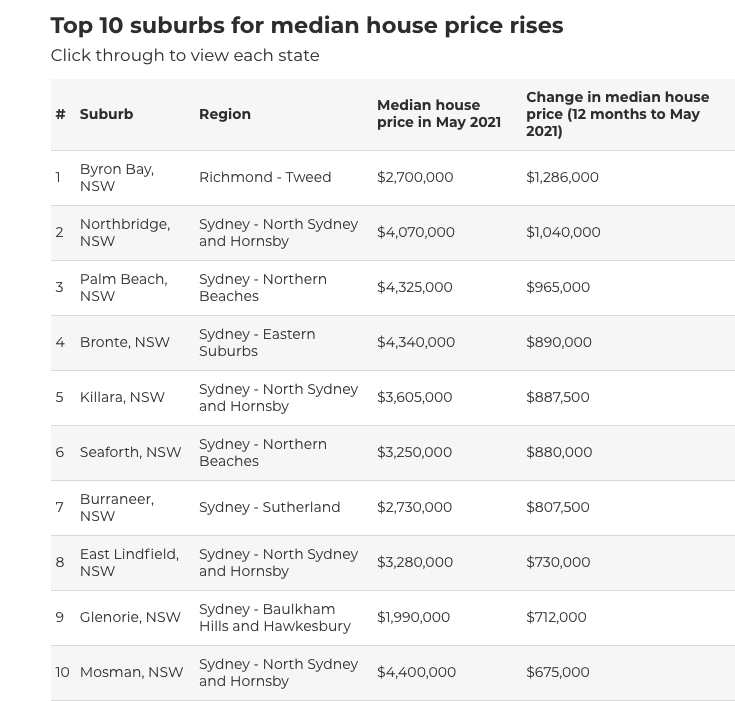 TOP AND BOTTOM
We are seeing the most demand and competition in the top and bottom of the market. High Net Worth buyers are still competing for top-end homes (over $3- 4 mil). Anything in a sought after location that is finished and ready to move in, with some views, are being snapped up quickly, often well over fair market value. This is what is causing this extraordinary median price increase: the number of top-end luxury homes being sold is skewing the median price statistic.
The lower end of the market is also highly competitive. Entry-level houses (under $1.5 mil) are being sought by owner-occupiers. Rental demand is so tight that anyone with the ability to borrow for a mortgage is talking to their bank or broker.  Everyone in this demographic is struggling to get a foothold into anything livable because rental options are just non-existent.
RENTALS
The cost of renting an average home in all regional areas has skyrocketed but especially here in Byron Shire. Core Logic stats show that Byron Bay rentals have surged by more than 32 per cent in the past 12 months – five times the annual rental growth in the past five years. Over the past year, weekly rents in Byron Bay climbed to $1150 for houses and $806 for units, eclipsing the $1083 and $797 rents for Sydney houses and units respectively.
Lately, I have been approached by a number of people wanting to pay me to help find them a rental property. I have to say no as I know it is a no-win proposal – here just aren't any rentals available – no matter how connected or cashed up you are.
Not Uncommon
Here is a link to a Guardian article that mirrors the story of Byron. The town of Port Fairy is west of Melbourne and has found house prices and rentals out of control since Covid. This trend is replicated in most small coastal towns all along the east coast. One would expect that city house prices would be falling because of this trend. It looks property investment is still holding up values.