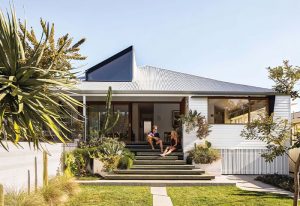 Local Architect's Home
Local architect, Harley Graham, has been responsible for some of the more interesting local houses and projects. Stone and Wood Brewery, Casuarina Commons, and Linnaeus Estate to name just a few. Although known more for his modernist style, his own project took a different turn.
This recent article in ArchitectureAU features his finished design of an old Queenslander saved from demolition. The original plan was to move a c. 1910 timber cottage from Brisbane to a 500-square-metre level block in Byron Bay. Then to renovate it and then perhaps probably sell it. But those plans were derailed, and the house needed to be transformed into a home for Harley and his two teenage children. When he drove down to see the house – which had been "stored" in a cane field in Ballina – he found the protective tarpaulins had blown off, leaving the home waterlogged and rotting. After 18 months of exposure, the house was in a sad state, its verandah hanging by a thread. The finished outcome looks to be worth the effort.