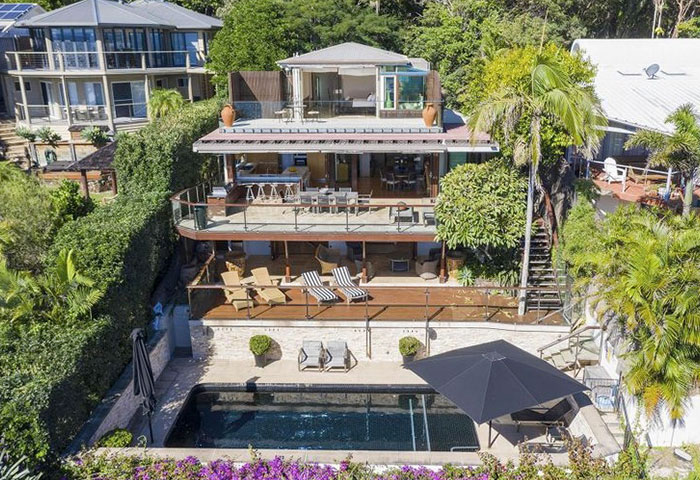 144 Lighthouse Road, Byron Bay
"Spa King" Eddie Phillips has finally sold his luxury property overlooking The Pass in Byron. Villa Gabrielle is a three-bedroom home on three levels with expansive views from massive decks and horizon pool. Phillips would have been the vendor from hell for the conga line of agents who have all had the listing for the past 16 years. Each time a buyer would make an offer, he would put the price up again. He finally achieved $9 mil after first listing it in 2004 for $4.5 mil. It was a beach shack in 2002 when he bought it for $2.36 million and commissioned architect Alan Mitchell to design the three-story house to make the most of the ocean views to Mount Warning. It had a rental fee of $20,000 a week.  Jeremy Bennett from Byron Bay Property Sales was the lucky agent who finally collected this well-earned commission.
Couple of Cheapies
1/14 Keats St Byron Bay
Not often I see something for sale in Byron Bay this cheap. A two-Bedroom unit in Keats street for $720,000. Keats st is in a good location and walk to town. This unit is the one on the street but has a north aspect. Listed with Harcourts
6149 Tweed Valley Way Burringbar
This is a good entry-level option for an FHB or investor. 3 bed 1 bath basic house on a 986 block of land. $449,000 with Elders Brunswick Heads.
7/293 Wharf Road Goodwood Island (Yamba)
This is a 1 bed 1 bath original fisherman cottage on leased land. The purchase cost is $85,000 for the cottage and lease of land is $65 a week. Cannot be expanded or rebuilt. Has river views. Contact agent down below