The Byron market is still in hyperdrive. Especially small rural acreages close to the coast. The new post-COVID work-from-home ethos and the flight from the cities looks to be more than just a passing trend. We have had other surges like this, but this one is probably the most extreme. Bangalow was the location with the second-highest search request in realestate.com.au last month.
No New Listings
We are at the start of a classic supply and demand squeeze. Byron Shire averages around 450 listings at any one time, currently, we are only seeing listings around 250. We have high demand from new buyers but very few locals are wanting to go anywhere.  I do not see this trend changing in the near future – at least till well after COVID-19 pandemic is behind us.
Price Rises Expected
The first price rise surge I experienced like this was in the early 2000s. The recent period of strong growth was between 2014 and then peaked in late 2017 before pulling back a bit. The median house price almost doubled then from $900k to $1,600,000 in postcode 2481. Shire-wide was just as intense, with a 72% increase in just 5 years from an average price of $530,000 in 2014 to $910,000 in 2018. There was also a post-GFC bump around 2010/11 but this has nothing compared to these other two.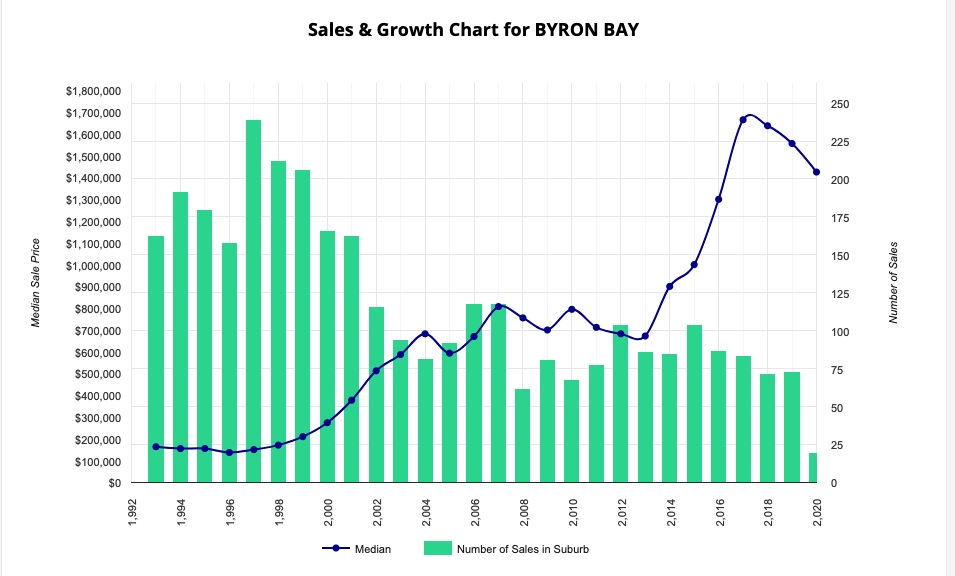 The attached chart shows the unprecedented price surge that Byron Bay 2481 had between 2014 to 2017. Since then there has been a downturn but price increases should be expected for the last half of this year due to the increase in demand and the decrease in new stock.
Dark Clouds
Some media is still predicting a collapse in property prices still to come. The federal government stimulus package is to be ceased or wound back in September. This may have an impact on built-up medium density areas in the cities but will be minimal here.
There are definitely some forced sales happening and I have seen a couple already.  We will not be immune from forced downsizing, finance, and liquidity issues. But generally, the Byron area is mainly inhabited by owner-occupiers who are holding very little debt. I recently heard a loan manager from one of the major banks complaining of not experiencing any higher demand as very few new buyers are in need of a mortgage.
Immigration Numbers
Continuous growth in immigration has been one reason why Australia has grown and maintained one of the highest real estate prices in the world.  The large influx of immigration since the early 2000s has not been met with an equal increase in housing supply. This article linked below goes into detail on this topic and is well worth reading for anyone with an interest in this subject.
Local Concerns
As always, Byron will continue experiencing increasing issues with rental supply and housing stress. If this current market upturn is anything like the last one, Byron median house price will go stratospheric. Byron Council's tinkering on the edges with Airbnb restrictions and the Granny Flat Moratorium will not put a dent in the side of our current undersupply of dwellings.
Housing Diversity
Most of us wish to keep a diverse, multi-textured community that also incorporates artists, musicians, surfers, and navel-gazers.  This is part of what makes living here so fabulous! It will be an issue for our community if the property and rental prices rise too high then we become a monoculture. The other problem we have is a lack of housing diversity. Please read the next article – ALTERNATIVE HOUSING MODELS – to get more information on what housing diversity looks like.