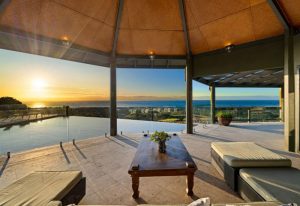 59 Coopers Shoot Road, Coopers Shoot
"Hercules" is a luxury property on the Coopers Shoot escarpment overlooking The Byron Bay Golf Course and Suffolk Park. It has 14 bedrooms, and 10 bathrooms in multiple dwellings and includes a commercial space as a training centre plus a film and audio recording studio. Gold Coast agency Amir Prestige had the listing and it has just sold for $22 mil. Other agencies first had the listing and looking for $30 mil.
The property has had an interesting history. Its current iteration began in 2003 when music producer and owner of School of Audio Engineering, Tom Misner bought the land for $2.2 mil. The previous owner before him was a timber mill owner who build an elaborate large wooden house outside the approved building envelope and right on the edge of the escarpment. A local environmentalist took offence at the building for a number of reasons and put a match to it.
Misner sold it to the current vendors, Robert and Deborah Wild, for $7.9 mil in 2014. They decided to move to the hinterland from Wategos Beach after many of their neighbouring homes moved to Holiday Letting. The Amir Prestige Agency had no comment on who the new purchasers were and what their intentions would be.