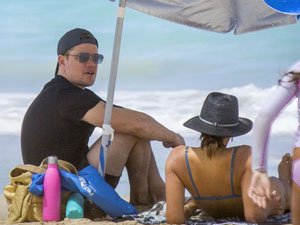 Celebrity Visitations
Hollywood actor Matt Damon has been back in town. He is to reprise his role in the upcoming Marvel film Thor: Love and Thunder. The family, wife Luciana and three daughters, self-isolated for the required 14-day quarantine in a private residence in the Byron hinterland.
"I'm so excited that my family and I will be able to call Australia home for the next few months," the actor said in a statement. "Australian film crews are world-renowned for their professionalism and are a joy to work with so the 14 days of quarantine will be well worth it. Australia definitely is the lucky country, and I can't wait to show my family Australia's down to earth people, breathtaking scenery and diverse culture."
Of course, the location of where they were staying was kept private. I have had personal experience with being "Papped" and it is not fun. Once, with a well-known, but a very private client, I had the experience of being followed, photographed by a hidden camera and photo published in a trashy global paparazzi magazine. Byron locals are pretty chilled and laid back about celebrities in our midst and let's keep it that way. My one interaction with paparazzi and the celebrity media has given me compassion and understanding of life under the microscope.
Also Starring in Iso
Actor Mark Wahlberg also spent 14 days in quarantine at a private $2500 a night property in Byron Bay last month. He was initially sceptical about self-isolation but is now a fan.  "I respect the rules because they keep Australia safe and open. That's why people don't really have to wear masks, restaurants are open, gyms are open… I went and visited an F45,' he revealed. "You guys really handled it well. I really take my hat off to Australia and how they handled the pandemic.' Unfortunately, Mr Wahlberg is here to film an ad for online betting agency Ladbrokes. These betting ads are something I really hate and the main reason I rarely want to watch free to air TV anymore.