Many locals and visitors have been a bit morose over the lack of beach sand at Clarkes and Main Beach this spring. This good ABC article explains why this is happening. It will return in time but it looks like it has been caused by an unusual direction and strength of the northerly current – not so much by erosion.
You may notice that both Wategos and the Pass has ample beach. Also, further north as well. It seems the sand deposits, known as sand slugs, are bypassing the beaches immediately around from the Cape Byron Headland.
Much concern has been registered by customers and owners of the Beach Cafe. This cafe sits on crown land but is now a  multimillion-dollar business. Ben Kirkwood is the owner and manager of Beach and has reacted to the false rumour that he will have to plan for future retreat due to the erosion issue. Mr Kirkwood says sandbags have been installed, and a 17m man-made sand dune is also having an effect.
"We're open for business and we are staying open" Kirkwood has said. Let's hope this venue and byron icon stays in business for many more decades.
(picture courtesy of ABC)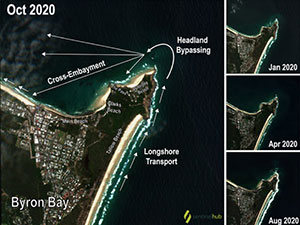 Main Beach Erosion