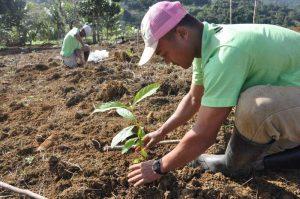 (THIS IS OCTOBER ISSUE)Plant More Trees Info
Many tree changers coming to this region want to make a positive contribution to the difficulty we are facing with climate change. Many owners or rural acreage are keen to make a difference by planting more trees. I have often been asked to assist new clients with this. Zero Emissions Byron is an NFP that has been active in this space for some years and now are compiling the stats on the amount of forest regrowth in the shire.
 
ZEB includes the Replant Byron Alliance that connects revegetation organisations, landholders and professionals.
"Our focus is now on supporting tree changers to manage their land in a way that draws down C02 and discourage land uses that emit C02 i.e. slashing and intensive monocultures/grazing".
There are many regrowth specialists available now in Byron Shire. The cost of revegetating comes in at around $40,000 p/ha or $16,700 p/acre however it is important to promote all the benefits of this land use so that people are not deterred by the cost.