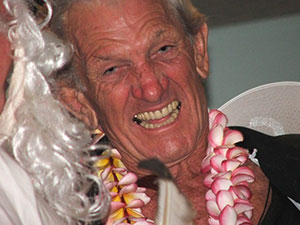 Tony Narracott's Eye
This is a good time to remember Tony Narracott. Tony was a huge advocate for Byron Bay who passed away in 2007. One of the most memorable events at this time was his living wake – a huge party at the Byron Golf Club when he knew he was going to die of lymphatic cancer. He was a mover and shaker for many good causes and one of them was the Byron bypass. I was reminded recently of Tony's Eye. This is a rugby football filled with his ashes and an eye painted on it and filled with his ashes. This "eye" has been placed above the old Byron railway station to keep watch and make sure the Byron bypass is completed. With the bypass nearly ready its a good time to remember Tony, all his good works and efforts, and be glad his watchfulness has been rewarded.
When the bypass is completed it will be time to roll out some of the town centre improvements outlined in the plan. Jonson Street will become more pedestrian-friendly and other changes can happen that were dependent on the bypass. The Byron Masterplan Guidance Group is currently calling for Expressions Of Interest for six new members. If you think you would like to contribute to this worthwhile group see the link below.