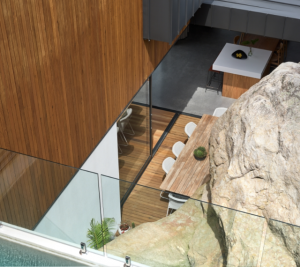 House of the Year
The HIA-CSR Australian Home of the Year award for 2021 was won by a home in Perth. It is a cascading, multi-level, dwelling that embraces the steep slope of the site.  Built by NSW builder Mallinger Constructions, the living wing hovers nine metres out over a sandstone cave. The open-plan kitchen flows onto a courtyard that contours around protruding boulders.
The judges were impressed by the building team's engineering feats in overcoming a site fall of more than 17 metres, a plunge pool cut into the rock and the workmanship of an internal timber feature that conceals a hidden room. "Rather than removing obstructive site features, the home's clever design instead binds its internal spaces to them," the judges commented.
The property reminds me of the work of one of my favourite architects, Sri Lankan Geoffrey Bawa. His Kandalama Hotel is a classic in the use of building into a rocky slope.
And we are on the subject, here are all the winners of the 2021 Architecture Australia Awards. The winner was a pavilion house in Paddington, Brisbane.