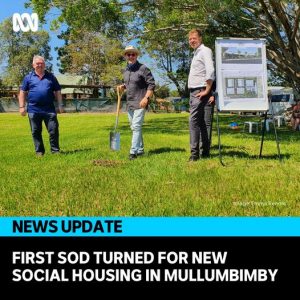 Social Housing in Mullum
A social housing project planned for Mullumbimby is finally about to start. The first sod was turned on previously council-owned land south of the Byron Shire Council chambers in Stuart Street. The development will be for 25 one and two-bedroom units, 15 will be social housing and 10 will be privately sold.
North Coast Community Housing (NCCH) has been working on the project for over six years. Councillor Paul Spooner (Labor) has also been behind it as part of his Community Land Trust (CLT) advocacy. The project was listed for sale by Mullumbimby Professionals a couple of years ago but was withdrawn due to difficulties with parking. The commercial units were then expected sell for mid $400ks.
NCCH CEO John McKenna says it's exciting to be able to provide more social and affordable housing in the Byron shire, but it's still "a drop in the bucket" compared to what's needed. "Nationally it's around, I think, just above four per cent now, in NSW it's about 3.8 per cent of all housing is social housing. Here in Byron, it's about 1.8 per cent, so there's not enough social housing."