(THIS IS OCTOBER MATERIAL) Top End Listings
As for the last year, top-end properties in Byron Shire and beyond are getting lots of attention. Here are a few recent listings:
390 Main Arm Road, Mullumbimby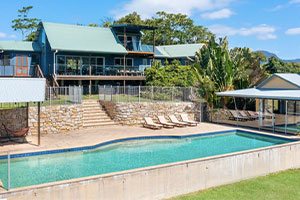 Set on 120 acres this one has lots of options. It already has a great 4 bedroom house with pool and great views looking north. But it also has an even better house site with 360-degree views that is excellent.  It has approval for cabins, two of which are already built, plus a community hall. This is the only private landholding with an approved hall. Hard to price this one but will be somewhere over $10 mil. Listed with Peter Browning at LJ Hooker Brunswick Heads.
100 Old Bangalow Road, Byron Bay
A pavilion-style homestead on 18 acres a short hop to town. Old Bangalow Road, like Old Byron Bay Road, is now becoming a sought after address and this is one of the better properties on it. It has immaculately landscaped gardens, a pool and a horse paddock. The Christine Vadasz designed pavilions consists of only four bedrooms that this property has the look and feel of a grand estate. Listed by Liam Annesley from Byron Bay Real Estate and looking for mid-teens.
307 Skinners Shoot Road, Byron Bay
'Lanikai' is an exclusive compound on 52 acres of landscaped gardens and rainforest with views to the Pacific Ocean and Cape Byron Lighthouse. It has an existing renovated 4 bedroom house with a two-bedroom cottage and an approved house site for the main residence. It has a yoga chalet and an extensive gym. Nick Dunn at McGraths Byron Bay is thinking $26 – 30 Mil.
Temple Byron, 46 Melaleuca Drive, Byron Bay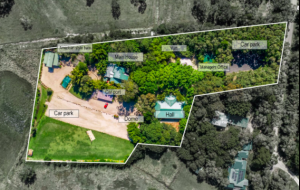 This yoga and meditation retreat has become an institution over the years and is now for sale. Just under 3 acres, main house, large hall, American style barn, managers quarters and office, magical yurt. Listed with Kollosche Byron Bay with expectations of $10 Mil.
Treetops, Hinterland Way, Wooyung.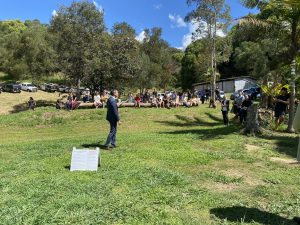 I attended an interesting auction on the weekend. Treetops is a 9 lot rural CT subdivision. The expected range suggested by agent Greg Price from Ray White Bangalow was around $4 mil, There was heated biding and it finally settled at an unexpected $8.3 mil. This price makes the retail sales for this rural residential subdivision implausible for retail sales even in today's overheated market. These buyers will have trouble recouping and this is a display of buyer over-exuberance.