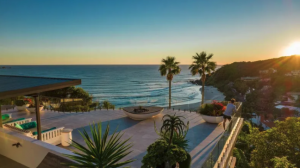 Welcome to Wategos
Investor and social entrepreneur Tanya Nelson-Carnegie has purchased in Wategos paying $14 million for 4 Palm Valley Drive. Liam Annesley from Byron Bay Real Estate was the agent and it settled in June.
Ms Carnegie was also the buyer of Hillstone Farm in Fowlers Lane Possum Creek for $11 mil last year. Her Sydney base is a $10.8 million Bondi Beach penthouse. Tanya is the ex-wife of colourful Sydney businessman Mark Carnegie. They have three daughters together.
Tara is the founder of a social venture fund, Vasudhara, and the Carnegie Foundation, where she helped create two charities, the Matilda Rose Early Intervention Centre and Hear For You. She has 20 years of experience in investment and started her career at McKinsey & Co. She holds a degree in Human Sciences from Oxford University and a post-graduate at Sydney and Macquarie universities.
The sellers were Nicholas Baxter and Johanna Gustaffson, who are now sailing the world on their newly acquired Fleming 65 yacht.