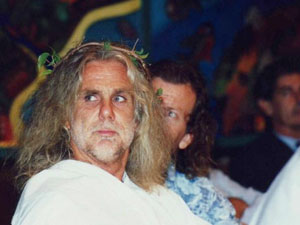 Buck "Fast Bucks" Fast Pls
At long last, the invidious influence of a certain local character is finally coming to an end. Activist and serial troublemaker John Anderson, aka Fast Bucks, has been coasting on his laurels of being a protector of the environment in the 90s for far too long. His latest party trick of invading the councillor's area while the council was in session and looming over Cr Sarah Ndiaye was one misstep too far.
He has had a history of bad behaviour, intimidating people and causing havoc during council meetings. He is a failed councillor and was unable to complete a full term himself but still has a delusional self-belief in his own opinions. The Echo and a rapidly diminishing contingent in the community have been giving him far more respect and column inches than he deserves.  At a time when there is zero tolerance for any kind of macho, belligerent, misogyny this is one old white male we can do without. Council has formerly issued Mr Anderson with a court order to not enter council chambers in the future.