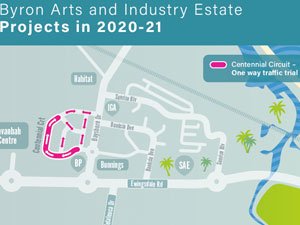 Traffic changes for Byron Industrial Estate
Council is introducing a  one-way traffic trial for Centennial Circuit in the Byron Arts and Industrial Estate. Anyone who visits there will know how busy and hectic those streets can get. It is set to commence on the 27 & 28 February 2021.
The trial will run for 6 months, after which Council will evaluate its success. To help them benchmark the trial, they would like your feedback on your experience of using Centennial Circuit during this period.
They want as many people as possible to take the survey. The survey is open until 26 February 2021. They will ask the same questions again during the trial to see if there has been an improvement.  www.yoursaybyronshire.com.au/centennial-circuit-one-way-trial.
In the week leading up to the trial, road and traffic works may be required.  The Council will endeavour to avoid inconvenience to business owners and their employees as much as possible but be patient while it is being rolled out.