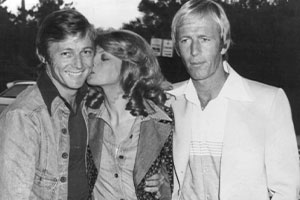 Vale John Cornell
John Cornell died in Byron Bay in July, after battling Parkinson's for 20 years. He was 80. "Strop" has a massive influence on Byron during the decades he and his family lived here. Many will remember him as a philanthropist and donor to local worthy causes, as well as a TV and film producer, co-creator of world series cricket. He was a canny and astute operator in many fields.
He was the owner of a sizable chunk of Byron Bay real estate, mainly in Belongil Beach and Ewingsdale. Other successful purchases/developments include the iconic Beach Hotel. He was also owner, along with another local big media player, David Gyngel, in the Brunswick Heads Hotel.
The making and launching of "Crocodile Dundee" were heady days for Byron Bay. The Epicentre, formerly the abattoir in Belongil, was where some of the interior scenes for Croc Dundee were filmed. The launch party in 1986 was in the venue now known as the Surf Shack, which I managed to crash. When Paul Hogan married co-star Linda Kozlowski on his Possum Creek property, the eyes of the world's media suddenly turned on our funky little town.
Some would say that Hoges and Strop made Byron what it is today, but I dispute that. Byron was already on some kind of weird trajectory when they moved here. We already had the arrival of the surfing contingent from California, Bali and Byron were already entrenched on the hippy trail. Hoges and Strop tried to do the same in the Queensland coastal town of Seventeen Seventy but it did not stick. Shirley MacLaine was in reality the first Holywood property owner here and was a purchaser here in the early 80s.
But vale John Cornell – he was a lover of Byron Bay, and Byron Bay loved him back.